Safari family
Our Safari Family are the ideal hiking boots for all popular hiking and trekking paths in low mountain ranges or on paved high mountain paths. The Safari familyis characterized by an extreme lightness, flexibility and damping, a combination which spare muscles, joints and intervertebral discs. With the new type of lining our Safari Trekking shoes are extremely breathable and suitable for temperatures between -5 and + 30°C. In addition they are waterproof for several hours and thus the ideal companion for alla appasionated hikers and nature lovers. There are different models availables of the Safari famliy.
The models in the VÖLKL ® Safari range are very light and offer a high wearing comfort thanks to their special design. All materials used are treated in order to make them breathable and water resistant, furthermore the shoes are equipped with the high quality Sympatex membrane higH2Out ® . Thus they remain waterproof even after prolonged use in wet terrain. The open-cell foam padding supports the air circulation inside the shoe, providing an optimum temperature control. The TÜV Rheinland certified Rubber/PU sole is durable and has high energy absorption values as well as slip resistance values.
Waterproof nubuk leather combined with abrasion resistant Cordura® fabrichig
H2Out® Sympatex membrane
Rust resistant loops and hooks, abrasion resistant laces
Changeable insole made of natural cork covered with abrasion resistant textile
Directly injected, profiled PU-Rubber-Outsole, lightweight, excellent cushioning properties, high isolation against high and low temperatures, best grip on every ground, abrasion, fuel, oil and acid resistant, non marking sole
Which VÖLKL Safari fits you most? Safari, Safari Light or Safari City?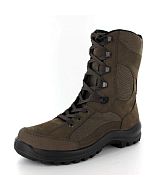 Safari
The VÖLKL Safari is the high model of the Safari family. Off path the leg height of about 22 cm gives you an extra amount of stabilty.
Sizes: from 36 to 50
Item Number: 94045
Safari Light
For all that prefere ankle-high shoes the Safari Light is the right model. With a leg height of about 16 cm it still has a good stability off-path.
Sizes: from 41 to 46
Item number: 94042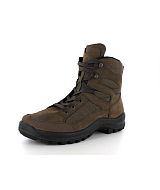 Safari City
The Safari City is the low model of the Safari family. WIth all typical comfort properties of the Safari family and a leg height of about 7 cm it is ideal for family walks on Sunday.
Sizes: from 41 to 46
Item number: 94071